Caroline Finck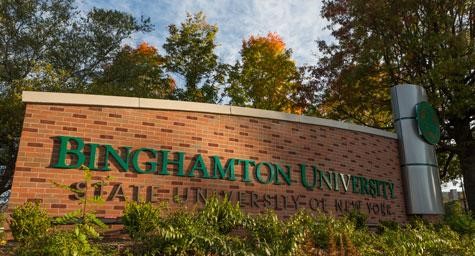 IMPLICATIONS OF COVID-19

Binghamton University was just one of many universities across the world impacted by the novel coronavirus pandemic that began in Wuhan,
China in late 2019. As a university of almost 17,000 students it was imperative that they acted quickly and swiftly to move all in person classes online to protect the health of the student body. New York State followed suit and swiftly closed all non-essential business and mandated "work from home" policies for non-essential employees. These mandates, while imperative for health and safety, have left New York State residents and Binghamton students in some new and stressful situations. With the closing of non-essential businesses many families and students across the country and feel new economic stressors. The U.S. Department of Education has issued guidance to financial aid administrators to respond to these economic stressors for their student body and will allow educational administers to use their professional judgement when reviewing cases impacted by COVID-19.

APPEALING PRE-EXISTING FINANCIAL AID

For college financial aid administrators to make adjustments on student's financial aid awards there are a few possible calculations including expected family contribution (EFC). Possible circumstances that may justify adjustments are provided by Forbes.com:
"The student or parent's employer closes for a period of time, laying off or furloughing staff
Death of a parent or other wage-earner
Lost wages due to illness, a quarantine period or shelter-in-place order
Inability to work because of illness (e.g., impaired lung function prevents a parent from engaging in substantial gainful activity)
Illness or death of a parent
Costs of returning home and putting belongings in storage after the college orders students to vacate the dorms" (Forbes, 2020).
While FAFSA awards are based on prior year income, students are able to appeal for more financial aid throughout the year and students who have been admitted and not-yet enrolled are also able to appeal. In addition to those impacted by economic stressors, students receiving federal work study (FWS) through their institution have also experienced confusion on the impact of closures on their payments and work moving forward. The U.S. Department of Education allows for universities to continue paying FWS employees even if the students are unable to work due to closures, as long as staff continues to pay its share to Federal Work-Study wages.

WHAT IS BINGHAMTON UNIVERSITY DOING?

Currently, Binghamton University has allowed on-campus students to move out and receive financial reimbursement for housing costs of the remainder of the semester. Additionally, the Binghamton Fleishman Center for Career and Professional Development will host remote meetings with students looking to enter or re-enter the job market. In addition, the Binghamton Financial Aid office will allow students to speak to financial aid counselors via Zoom Monday-Friday from 9am-4pm and has set up a FAQ page specifically for COVID-19 concerns.

LOOKING FOR MORE RESOURCES?

Check out Forbes.com "How to Appeal for More College Financial Aid" here!
The Binghamton University COVID-19 Information Page
The Binghamton Financial Aid Department's FAQ on COVID-19